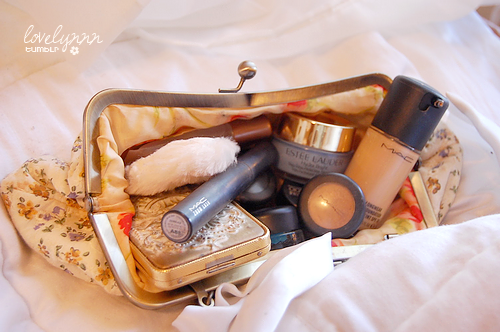 Sure, we all have those cavernous, faded, crushed bags floating somewhere in our purse. Maybe they see the light of day regularly, maybe they don't. It's time to clean out the cobwebs and re-vamp! Not only is it healthy to ditch old makeup products after a few months, it's important to make sure your makeup bag reflects only the basics of what you need in order to save your shoulder and your budget. Read on for a way to economize and make sure you have all of the essentials!
A compact. Crucial for touch ups, blotting, and great because you don't need an additional mirror. For those going for the more natural look, opt for a translucent powder. This way you don't look cakey because you're not adding layers of color, just a sheer layer where you need it on oilier spots.
Mascara. Warning: too many coats can equal spidery lashes. But some mascaras have a way of flaking off during the day, so use your best judgement as to whether you need to apply more or just need more curl to your lashes – if you find that you're leaning toward the latter, substitute this with a lash curler.
Hand lotion. There are few things more refreshing than a quick drop of lotion on a dry palm. Whatever your favorite is, stock up! Especially in the colder months when you find your hands in need of a boost.
Your favorite chapstick. Crucial for the drier months, as well as the summer months if your go-to lip wear also includes SPF. It's also a great base under lipsticks or glosses, and helps keep your pout healthy and hydrated throughout the day.
Essential oil. While many would swap this for a perfume sample or a small bottle of their favorite fragrance, for health reasons I like to keep an organic essential oil around instead. Because perfume ingredients are often not listed and are not regulated by any health industry you have no idea what you're putting on your skin – and several recent studies have shown that some perfume ingredients are similar to the toxins found in cigarettes. Gross! Instead, essentials oils provide a great scent without harming your body through long-term exposure. Most essential oils need to be diluted with water, wax, or other oils to avoid drying or irritating the skin, but several such as lavender, eucalyptus, and tea tree to not.
Bobby pins and a hair tie. I like to group these two together to save on organization. Instead of letting your bobby pins swim around the bag, simply slide them onto a hair tie instead. It saves space, and they're always there when you need them.
Mints. Hey, you never know when you need to impress that certain someone!
Q-tips. Let's face it, brushes are bulky, messy, and relatively unnecessary unless you're applying face product randomly throughout the day. Minor face makeup alterations can be made with your compact, and as for the rest – q-tips will do the trick! Smudge eyeliner out to make a smokey eye, use them to blend your eyebrows, or even fluff out the end to apply extra eyeshadow if you need to. They're also great for touch ups if you smudge your mascara or eyeliner.
What do you think?
What do you think of our list? What's in your makeup bag? What are your favorite brands? Share with us in the comments section below!