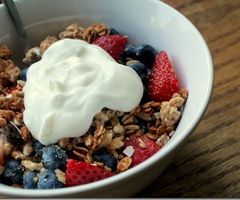 photo credit
Greek yogurt has become a popular item on the college girl nutrition radar, and for good reason. Studies have been cropping up everywhere arguing that it is better for you than traditional yogurt, and if you weren't sold by the taste alone, read on for why you might want to jump on this nutrition trend.
Low cal, but high in calcium and protein
While all yogurts boasts calcium benefits, which are crucial for maintaining bone health and keeping teeth healthy and strong, greek yogurt contains about 15 percent of the daily dosage of calcium recommended by the USDA. It is true that other traditional yogurts contain more calcium than some greek yogurts, but greek yogurts contain a sizable amount of your daily calcium recommendation on top of an impressive amount of protein that other yogurts can't rival. In fact, the most popular greek yogurt brands contain twice the amount of protein found in traditional yogurts. So with greek yogurt you really can have it all.
Less sugar and sodium
With an increased amount of protein in greek yogurt, the calories contained in greek yogurt come from a different source than that of regular yogurt – which means less sugar! Many of the most popular greek yogurts have cut the amount of sugar in a regular cup of traditional yogurt in half. And for those who suffer from hypertension, greek yogurt also contains only half of the sodium content found in regular yogurt. The USDA does not recommend a daily amount of sodium, because it is so abundant in American food and processed foods. To stick with their recommendation, greek yogurt is the superior choice.
Better for digestion… and cooking
Like any other probiotic food, greek yogurt is rich in healthy bacteria that aid digestion. This being said, it is also better to cook with and add to other foods than traditional yogurts. Adding greek yogurt to vegetables, fruits, granola or cereal, or substituting it for sour cream keeps a thick texture and also helps you to break down the food you consume as you digest it. Because the consistency of greek yogurt is thicker and creamier than regular yogurt it is more lactose-friendly and easier to add in with other meals.
What do you think? 
Have you tried greek yogurt? Do you like it better than regular yogurt? Let your voice be heard in the comments section below.