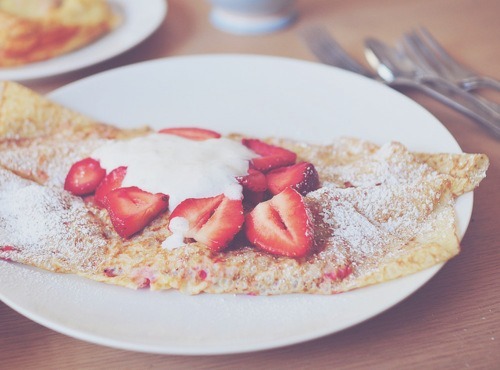 Crepes are basically like thin pancakes, but they are a fun, gourmet twist on the breakfast staple. One of my favorite things about crepes is that you can keep the batter in the fridge, so you can make a few crepes tonight and then a few more later in the week. Or you can make a whole batch of crepes and then store them in the freezer for whenever.
Basic Crepe Recipe
Tools:
Ingredients:
1 cup flour
2 eggs
1/2 cup milk
1/2 cup water
1/4 teaspoon salt
2 tablespoons butter, melted
Directions:
Begin by heating a small, greased fry pan over medium high heat.
Now in a mixing bowl begin by whisking together all of the dry ingredients. Once these ingredients are mixed, start incorporating the dry ingredients and mix until you have a very smooth batter.
Pour about a 1/4 cup of the batter into the heated pan.  Pick up the pan and tilt in a circular motion.  Cook for about 2 minutes. Use a spatula to flip and cook the other side. Once both sides are golden brown transport the crepe to a plate.
Continue #3 to cook the rest of the batter. Make sure to regrease the pan for every crepe for easier cleanup.
Want a savoury crepe for dinner?
Add some of your favorite dried herbs to the batter before cooking. Now add some protein, cheese, and veggies for a main entree.  Use whatever leftovers you may have in the fridge or use what you would normally put on a sandwich.  Or get creative and try making a baked potato crepe or a buffalo chicken crepe. If you want melted cheese then add your fillings while the crepe is still in the pan. Now flip the crepe in half, covering all the fillings, and sprinkle cheese on top and let it melt. Transfer the crepe to a plate and enjoy!
Want a sweet crepe for dessert?
Add a teaspoon of vanilla extract and a half cup of sugar to the basic recipe for a very tasty crepe. I think fixing the crepe this way is sweet enough on its own, but if you want to dress it up, fold the crepe into fourths and then add a spoonful of whipped cream or cool whip and then drizzle with chocolate syrup. Another option is to add some fruit as a filling. Then dust the top of the crepe with powdered sugar or a cinnamon sugar mixture. Make sure to share this one with friends!
What Do You Think?
Have you ever made crepes? What do you like to top them with? Will you try out our recipe? Leave a comment and let us know!