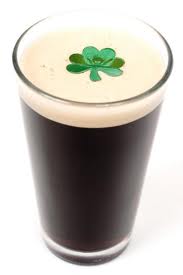 photo credit
This beer-based cocktail is a St. Patrick's Day classic, and whether you're Irish or not and you want to celebrate St. Patrick's Day today, as most college campuses do, read on to learn how to make your own!
What you need
1/2 shot of Bailey's Irish Cream
1/2 shot of Jameson Irish Whiskey
3/4 pint Guinness stout
Preparation
Pour the Bailey's into a shot glass, fill half way
Pour the Jameson Irish Whiskey in next, filling the shot glass to the top
Grab a beer mug and pour in the Guinness, allowing the foam to settle
When you're ready to drink (and drink quickly) drop the shot glass into the Guinness
Make sure to drink immediately after dropping the shot in, because after a few minutes it will curdle and the taste will be less than appealing.
What do you think?
Have you made this cocktail? What is your favorite St. Patrick's Day drink? How do you plan on celebrating the holiday? Share with us in the comment's section below!