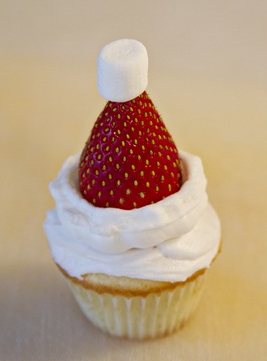 photo credit
Three words really sum it up: 'Tis the season. As we approach the holiday season, filled with delights, gifting, receiving, and loving, add a little extra sweetness to the holidays with these Santa hat cupcakes. No matter which holiday you're celebrating this month, these are delicious, cute, and easy to make!
What you need
A box of strawberries
A box of cupcake mix (with a flavor of your choice) and all of the remaining cupcake ingredients listed on the box (eggs, etc.)
White frosting
Toothpicks
A bag of mini marshmallows
Preparation
Preheat your oven to your desired temperature as written on the box of your cupcake mix of choice
While the oven is preheating, throw together the cupcake ingredients (follow the few directions on the box)
Allow the cupcakes to bake and cool for at least 10-15 minutes before continuing
Frost your cupcakes with a thin layer of the white frosting
Take your strawberries (use one for each cupcake you made, these will be the "hats") and cut off the green leaves
Stick a toothpick into the strawberry so there is a little sticking out of each end
Stick the strawberry on a the frosted cupcake
Place a mini marshmallow on the top of the strawberry where the toothpick is jutting out
With either whipped cream or more frosting, make a ring around the bottom of the strawberry
And there you have it, a Santa hat cupcake.
What do you think?
What do you think of this dessert? What are your favorite holiday treats? Share with us in the comments section below.