Hats are fairly underrated accessories, which is a shame because besides being useful for their practical uses, they add a nice finishing touch to any outfit. Aside from looking cute, hats' practical uses seem outweigh their nuisances.
Reasons not to wear hats: 
1. Hat hair
2. Risk of blowing away in wind
3. Unfamiliarity with hat etiquette.
Reasons to wear hats: 
1. Protecting the eyes and face from sun
2. Keeping head/ears warm in the winter
3. Keeping head dry in the event of rain
4. Hiding a bad hair day
5. Pulling together an already rockin' ensemble
6. Miranda Kerr makes you want to wear hats every day
She wears them well, take notes. There is a hat for everyone's taste – fedoras, wide brimmed hats, sun hats, berets, beanies, dress hats, cowboy hats, cloches, bucket hats, pillbox hats, top hats, turbans, snapbacks, baseball caps, sombreros…you get the idea. I know hats can be intimidating, so I'm going to show you 3 outfits incorporating 3 different hats that will hopefully inspire or encourage you.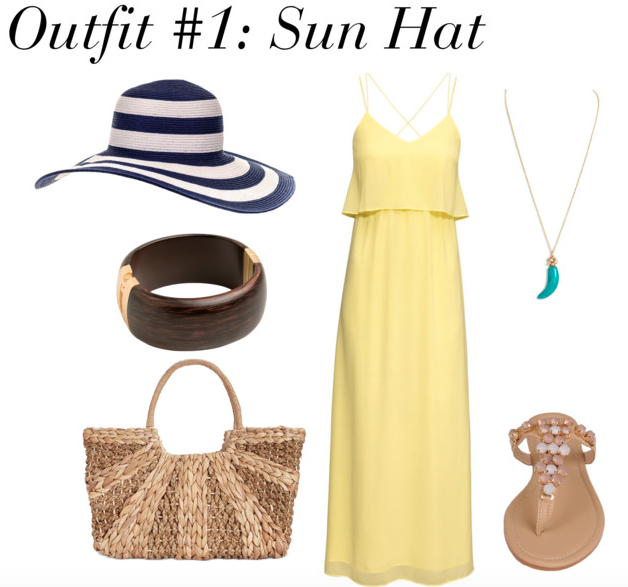 Hat – Dress – Tote – Bracelet – Necklace – Shoes
They key word to remember when styling a sun hat: beachy. If you're intimidated by hats, you may be inclined to wear muted colors while trying out this trend. Never fear! You can do it! This navy-and-white hat in particular would look fabulous with a casual yellow maxi dress and some beaded flip flops. Keep accessories minimal but play around with colors if you'd like. A nice straw tote bag will complete your beachy look.
Hat – Sweater – Tank – Jeans – Necklace – Backpack – Shoes – Umbrella
And the key word for wearing beanies: comfy! Seriously, the formula for this outfit is easy. Jeans + oversized sweater + booties + beanie + x = outfit! Where x=whatever else you want to add. Beanies are great for adding some edge to your look, keeping you warm, and taming frizzy hair when it's raining. When I wear beanies I feel like I should be sipping some hot coffee and reading a book until the rain stops. When it's cold outside, you'd be surprised how much warmer you feel while wearing a hat. These things are going to be my best friends this winter while walking from class to class.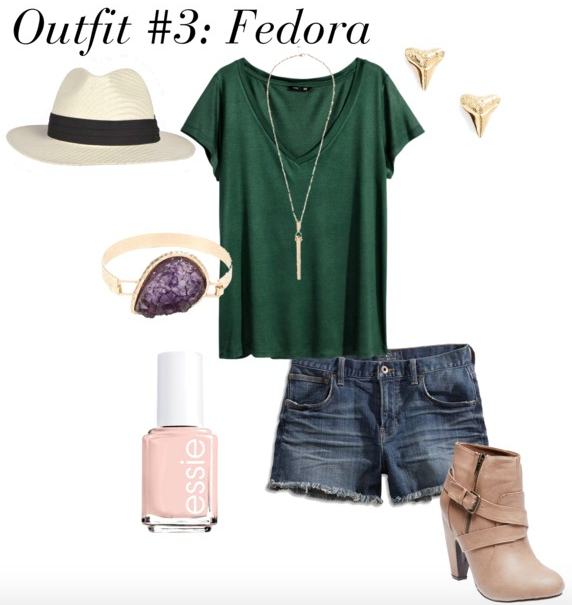 Hat – Shirt – Shorts – Shoes – Nail Polish – Necklace – Earrings – Bracelet
When I see fedoras, my mind immediately pictures characters on Mad Men, or a mental image of Miranda Kerr, as pictured above with her white fedora. While the characters of Mad Men wear fedoras with suits, they work better with casual outfits in modern times. This outfit is simple, and adding a fedora just pulls it all together. They are so easy to wear with a plain t-shirt and some jean shorts. Again, very simple, see?
So, my challenge to you is to wear a hat 2 times this week/weekend, and see how much of a difference it makes in your outfit choices.
What's your favorite type of hat!