I know the first day of classes is stressful, and the last thing you want to think about is dolling yourself up before you rush out the door. But if you put in a little bit of effort, I promise you will feel more productive and just better overall. The trick is to pick out your outfit and lay it out before you go to sleep, put your shoes by the door, and have all of your things packed and ready to go.
And no need to stress out about spending money on a whole new outfit, you probably already have most of these key pieces in your wardrobe. That being said, I'm going to share with you 3 outfits that are first day appropriate that are under $100.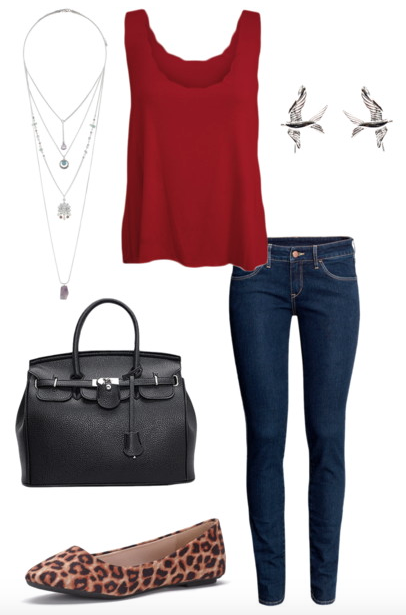 Top $14 – Jeans $10 – Tote $35 – Shoes $18 – Necklace $6 – Earrings $8
 Outfit Total: $91
I thought it was a joke when I saw that those H&M jeans were $10. I've always invested in a good quality tote instead of a backpack. They make whatever you have on look very chic and are just as practical as a backpack if you find one that has enough room. Anyway, a simple tank top and some comfy printed flats should be wardrobe staples. I live in Charleston and the streets are pretty unforgiving here, so heels are not an option since the campus is so spread out.
 Dress $17 – Bag $20 – Shoes $11 – Necklace $12 – Bracelet $25 – Earrings $9
Outfit Total: $94 
Dresses for class are a definite "do". Take one of your favorite sundresses from this summer and pair it with a cute pair of oxford flats. Find a simple white bucket bag or purse, and accessorize with a fun pop of color (such as pink!). This outfit is definitely the most feminine out of the 3.
Top $14 – Jeans $10 – Scarf $7 – Tote $25 – Shoes $32 – Bracelet $6 –  Earrings $5
Outfit Total: $99
H&M has it going on with jean deals right now. Take a more laid back approach for your first day with some black jeans, a simple grey t-shirt, and a pair of Vans will keep you comfortable all day. Professors sometimes keep their classes a little chilly so an accent scarf will add a touch of warmth and some sass. Scarves are always a good idea. This outfit is also a good "rainy day" outfit – just switch out the Vans for some rain boots!
I hope these were helpful to you! What are you planning on wearing for your first day of classes?