Summer is upon us, and that also means it's time for a bunch of season finales! Grey's, Gossip Girl, Lost, Glee, what are you going to do without them all summer?
Here's my list of summer tv suggestions to keep you satisfied until your favorites return in fall. Maybe you'll even find some new favorites.
Some shows are returning for their summer seasons. Whether you've seen them or not, you're sure to enjoy these hits.
True Blood:
If you like vampires, and who doesn't, this series, which is on HBO is a slightly more adult version of Twilight. It revolves around a small Louisiana town where vampires and humans live together, not quite in harmony, and more specifically, the story of Sookie Stackhouse, played by Anna Paquin, who is a telepathic waitress who falls in love with a vampire. If you haven't watched it yet, hurry and catch up, the 3rd season begins on HBO on June 13th.
Jersey Shore, Cake Boss:
I am a true Jersey girl at heart and proud of it! It's because the best reality shows come from Jersey and these two are no exception. You may or may not have heard of the phenomenon called Jersey Shore. It's a reality show that follows a few 'guido/guidette' cast mates getting their GTL (gym, tanning, laundry) on at the Jersey Shore. Repeats of Season One are airing Thursdays on MTV and the gang returns later this summer with a new season shot in Miami. Cake Boss also returns this summer. It follows the 'famiglia' at Carlo's Bakery in Hoboken, NJ as they prepare amazing specialty cakes and make a few messes along the way (think Ace of Cakes meets the Sopranos). Cake Boss returns May 31st on TLC.
There are so many new shows premiering this summer. It was so hard to pick a few to share with you, but I think these have potential to be your new summer guilty pleasure.
Pretty Little Liars:
If you are going to miss the drama of gossip girl, check out this new series about a secretive clique, whose queen bee, Alison, suspiciously disappears. Then, the group is anonymously approached by someone named 'A' who threatens to expose their secrets. Could it be Alison? You can find out June 8th on ABC family.
Melissa and Joey:
Am I the only one who misses television of the 90s? If this is you too, check out this new show on ABC family starring Melissa Joan Hart and Joey Lawrence. Melissa plays a politician that takes in her niece and nephew and hires Joey as their 'manny'. I think this has all the makings of a hilarious comedy and this duo's chemistry is undeniable. I can't wait! Premieres August 17.
Bethenny Getting Married:
If Real Housewives is your thing, watch this miniseries, detailing the planning of Bethenny Frankel's wedding and preparation for the arrival of her first child. Bethenny is hilarious and I'm sure this series will be no exception. It's also a great way to get your housewives fix while you wait for the next season. Premieres Thursday, June 10 at 10pm on Bravo.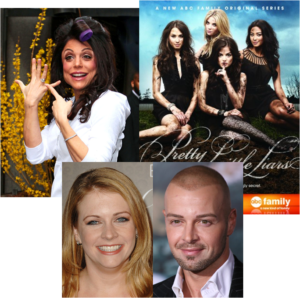 If your summer schedule is busy and you don't have time to commit to watching a show at night, or just want something to pass the time, catch up on these old shows.
Greek:
Greek just wrapped up its third season and revolves around the story of Casey Cartwright, sister of Zeta Beta Zeta at Cyrus Rhodes University, her brother Rusty, and all their 'brothers and sisters'. The Greek system at Cyprus is an incredibly fun and addictive atmosphere to watch, though maybe not always entirely accurate. Even though it is about fraternities and sororities, this show touches all parts of college life in a usually funny and ridiculous way. The show returns for its fourth season late this year.
Weeds:
One of my personal favorites, this show is about housewife Nancy Botwin, who, after her husband's death, decides to become a pot dealer to support her family. Watching this show has become a summer tradition with me and my friends. Start from the beginning and just try to keep the addictive theme song out of your head. Weeds returns for a sixth season Monday, August 16th at 10pm on Showtime.
What Do You Think?
What are your favourite summer TV fixes? Are you bummed that some of your shows are over for the fall? Or are your favs just getting started? Leave a comment and let me know!